The Law Of Cause And Effect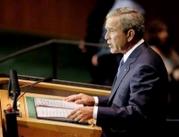 I am now convinced more than ever that the emperor has no clothes. George WMD Bush has made his career on war-mongering, fear-slinging and cliche-repeating, but has done nothing to actually address the problems that face America and face the world. Iraq was relatively stable when he entered office - it's on the brink of civil war now. Clinton left office with a surplus and GW has big government spended America into dependence on the benevolence of the Chinese to support the giant pyramid scheme that has become our economy. The federal government that swiftly, and without thinking, passed the PATRIOT Act, couldn't save a couple thousand people from drowning in New Orleans. And, terrorism doesn't seem to be any less of a threat today than it was before 9/11.
This pathetic state of affairs may explain why the Emperor inexplicably changed his position on the approach to terrorism, telling the United Nations today that
The lesson is clear. There can be no safety in looking away or seeking the quiet life by ignoring the hardship and oppression of others. Either hope will spread or violence will spread, and we must take the side of hope.

In this young century the four corners of the world are linked more closely than ever before and no nation can remain isolated and indifferent to the struggles of others. When a country or region is filled with despair and resentment and vulnerable to violent and aggressive ideologies, the threat passes easily across oceans and borders and can threaten the security of any peaceful country.
Does this mean that the terrorists don't just hate us because of our freedom? You mean, they don't commit suicide and do crazy things simply because we eat at McDonald's and choose between skull & bones cult members every four years? Perhaps, just perhaps, "those" people also have an instinct of self-preservation that only the most dire oppression can override.
(http://intellectualinsurgent.blogspot.com/2005/07/dying-to-win.html
)
The same warlord who told the world that it is with us or against us, that there is no justification for terrorism and that the U.S. would shock and awe the enemy is now conceding that the law of cause and effect may actually apply to terrorism. Following the London Bombings, Tony Blair offered the same cautions about understanding the roots of terrorism and the reich wing went ballistic. They called him every emasculating name in the book and offered GW as the model of how to respond.
(http://intellectualinsurgent.blogspot.com/2005/07/sensibility-in-western-world.html
)
Could it be that Hurricane Katrina has forced a bit of humility and sensibility upon the administration?
"Only the educated are free"
Epictetus