Foreign Fighters In Iraq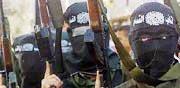 The U.S. military and its media megaphone have been yammering about "foreign fighters" in Iraq (as if the American and British soldiers aren't foreign fighters). Increasing threats of force against Syria are being justified by its alleged failure to seal its borders to keep "foreign fighters" from flooding into Iraq (perhaps once the U.S. figures out how to seal its border with Mexico, it can offer a how-to seminar to the Syrians).
As it turns out, however, not all the non-American, non-British "foreign fighters" are from Syria. Indeed, the majority are not. Major General Rick Lynch offered the following demographic breakdown: The countries of origin most represented were Egypt (78), Syria (66), Sudan (41) and Saudi Arabia (32). The list included several other Middle Eastern countries and a number of European states such as France (1) and Denmark (1) as well as two Indians and an American.
Conspicuously absent from America's pro-war media is the mention of one other "foreign fighter" captured in Iraq. The
Israeli papers report today
that "an Israeli is among the more than 300 foreign fighters who have been captured in Iraq by U.S.-led troops and Iraqi security forces since April." It is remarkable how much more honest the Israeli papers are about Israel than American media.
The U.S. is threatening to bomb Syria even though some of America's alleged allies, including Israel, are buttressing the insurgency in Iraq? Is it just someone eating salmon in my vicinity, or is that fishy?