Good Night and Good Luck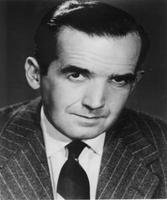 Edward R. Murrow, journalist extraordinnaire pictured above, bid his listeners Good Night and Good Luck at the close of each of his evening broadcasts.
If you do not remember, or never learned, Murrow is the courageous journalist from CBS (when it had integrity) who challenged Senator Joseph McCarthy's unconstitutional, hysterical, immoral witch-hunt of alleged communists in the United States. McCarthy ruined many careers with unsubstantiated claims that the target was a communist party member or even a mere "sympathizer". Anyone who dared to disagree with his tactics was accused of being unpatriotic and sympathetic towards America's enemies. Murrow and his producer Fred Friendly knew they would become targets and proceeded nonetheless.
Good Night, Good Luck
tells the story of Murrow's fight against Joe McCarthy. Black and white throughout, with David Strathairn as Murrow and archived footage of McCarthy's Senate hearings, audiences get a bird's eye view of the drama as it unfolded in the 1950's. It is a sobering reminder of how easy it is for our leaders to use fear and hysteria to deprive us of our rights.
A speech Murrow gave 47 years ago at the Radio Television News Directors Association convention finds incredible relevance today,
We are currently wealthy, fat, comfortable and complacent. ... But unless we get up off our fat surpluses and recognize that television in the main is being used to distract, delude, amuse and insulate us, then television and those who finance it, those who look at it and those who work at it, may see a totally different picture too late.
This movie is a must see for anyone who cares about Freedom of the Press and the dilapidated state of American democracy.